There's so much going on in the Magic City these days, and we don't want you to miss a beat!
by Jenny Adams photography by Rachel Callahan
As a kid in Birmingham in the 1980s, I remember how dark it was downtown. Parking on Morris Avenue was plentiful, but you were also offering up your car to potential vandalism. And, hanging out on the railroad tracks at the very center of the city? That was outright dangerous.
Today, I return home to a new Birmingham in 2019. Over the last five years, the changes in downtown alone have been astonishing.
Railroad Park has replaced those sketchy sections of track. The green space features 19 acres of birch groves, native plants, a stream and lake system, a bike and scooter share service (Veo Ride) and a skate park. Adjacent trails—like the Rotary Trail—connect you to other neighborhoods on protected, planted pathways.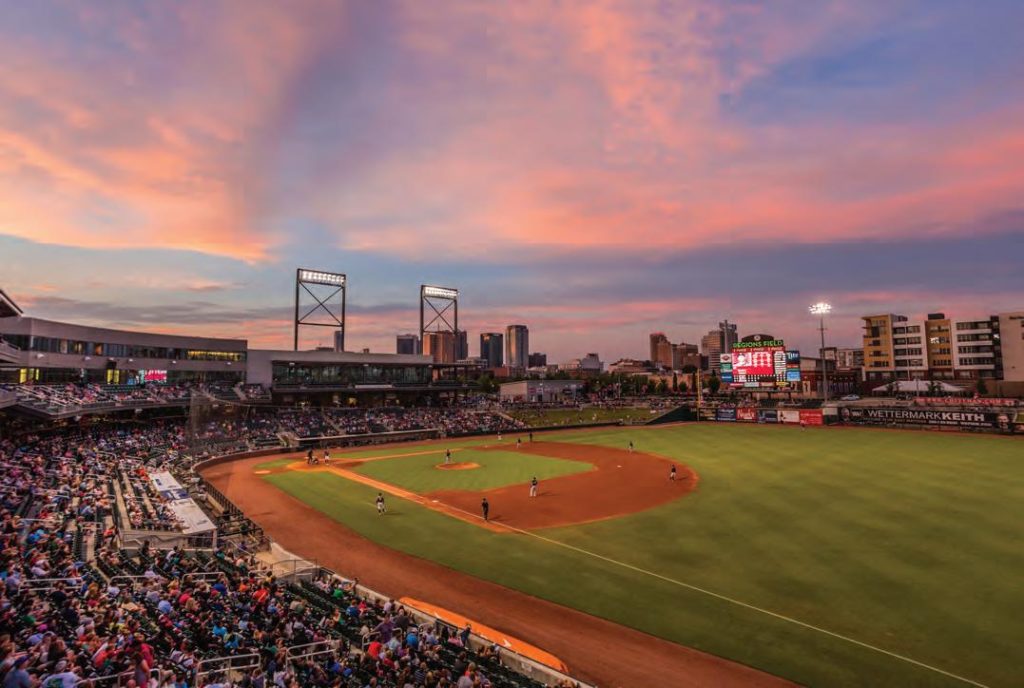 Morris Avenue still retains its cobblestone and brick charm, but now you have places like The Essential. Homemade pastas, salads and both savory and sweet pastries come from Pastry Chef/Owner Kristen Hall. The late-1800s, brick-front Victorian building is just a few blocks away from the similarly housed Queen's Park––a new cocktail bar by a global-award-winning bartender, Laura Newman. It's an ode to a tropical, old Havana-styled hotel inside, with dripping foliage, vintage fixtures and concoctions like Newman's Milky Way––featuring Tito's vodka, vanilla and cereal milk.
Whether it's your first time or your 40th visit to the Magic City, you'll likely need a guide to make the most of everything new and old…and overall, exciting.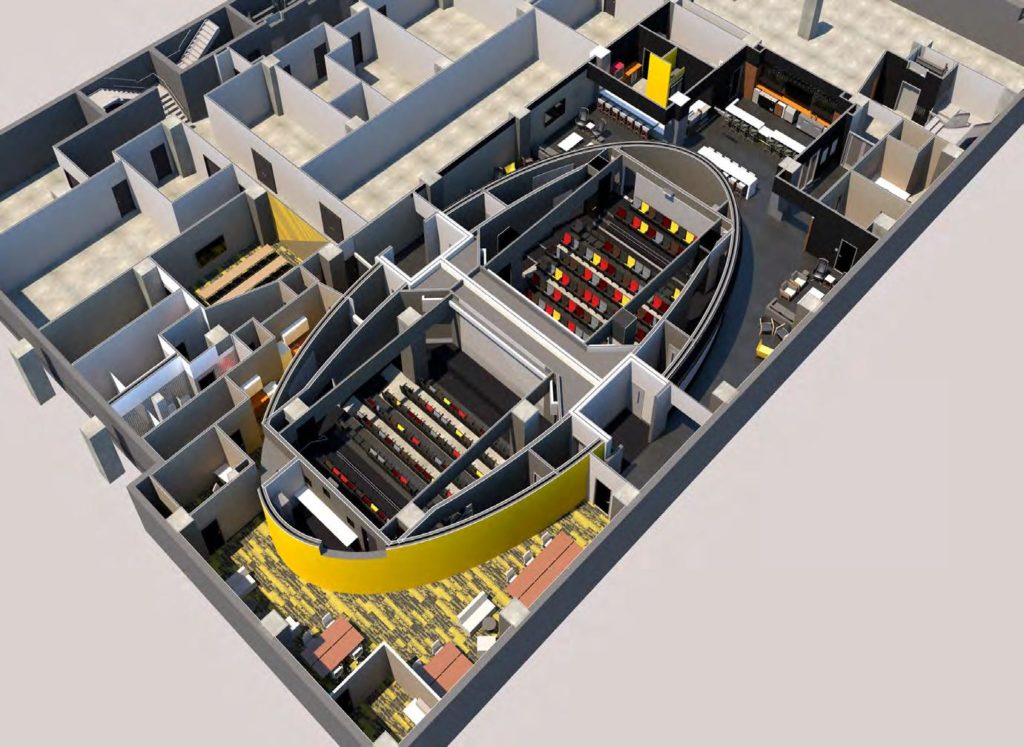 The Heart of Downtown
A great place to begin your New Birmingham experience is in the very heart of downtown. Regions Stadium was designed by HKS of Dallas (the same group that created The Cowboys Stadium in Arlington, TX) and it's directly adjacent to both Railroad Park and local Good People Brewing company. After a game or a beer on the patio, you can stop by Birmingham's grand and impressive food hall. Inside you'll find cuisines from around the globe, like the barbecue chicken ramen at Ichicoro IMOTO and the closer-to-home, homemade pimento cheese at Busy Corner Cheese & Provisions.
What's most notable about this food hall is its location inside the old Pizitz Department Store building. Owned and operated as a high-end department store from the 1920s-1980s, the 200,000-square-foot landmark building sat glaringly empty until Bayer Properties bought it for $1.6 million in the late '90s. Painstakingly restored, the main level reopened as a food hall in 2017.
The Sidewalk Cinema opened on the basement level with two screens for independent movies. It will be a new home base for the city's long-running Sidewalk Film Festival.
"The Sidewalk Film Festival will takes place each August in the heart of Birmingham, Alabama's historic theatre district," offers Chloe Cook, Executive Director of the Sidewalk Film Center and Cinema, and the Sidewalk Film Festival. "We screen over 250 films in 10 venues, including the gorgeous 2,200 seat movie palace that is the Alabama Theatre and the newly renovated Lyric Theatre. In addition to film screenings, we host over 150 visiting filmmakers who participate in Q & A sessions, teach master classes and more. Plus, we host 8-10 parties and receptions, panels and workshops and lots of special events. The Sidewalk Cinema will be a permanent home for our organization— providing office and meeting space, two theaters, an educational space, a concession stand, and a full bar. The Cinema will be open 365 days a year so it will not only change the game for our organization but for the entire community." For information about how to contribute to the Cinema project or attend the Sidewalk Film Festival, please visit www.sidewalkfest.com
There are so many places to see a show now in Birmingham. That's the newest, but you should also visit the oldest—the theater district just a few blocks away. The Lyric Theater was reopened in 2016. This 1914 gem now offers live concerts and plays by regionally acclaimed acts. Directly across the street, The Alabama Theater is an institution, fully restored in the late '90s. Last year, the Dalai Lama sold out as a speaker and Willie Nelson performed.
The Carver Theater & the Alabama Jazz Hall of Fame feature not only a museum to the state's music legacy in this genre but also a performance space and a school for aspiring talents.
There's retail, too, all along Morris and First Avenues.
Pop by the chic, minimalist ethically focused designer Basic for cozy sweaters, soft-leather handbags, outerwear and shoes. Stationary, totes, and charming, small home items line the shelves at Square One Goods. The Alabama Peanut Company will sell you fresh-roasted peanuts and a humorous, cool, logo'd t-shirt, and artisan chocolates from Honeycreeper make ideal gifts. After the retail extravagance, a finishing libation is just steps away. There's the Pilcrow Cocktail Cellar—where the world's most beautiful agave spirits shine— the long-loved Wine Loft for a glass of vino.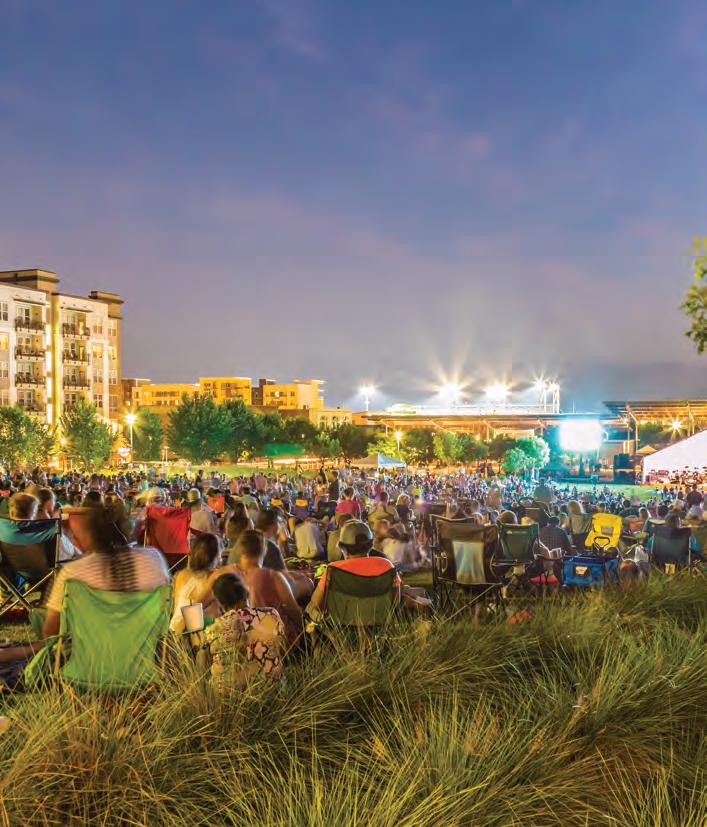 Five Points & Lakeview
Start a weekend with happy hour at 5 Point Public House Oyster Bar, opened by Birmingham's beloved chef, George Reis. Eight wines on tap are paired perfectly with oysters from Alabama, Florida, Virginia and Maryland, alongside heavier plates, like their hearty oven breads. Reis also owns the acclaimed Ocean—also in the Five Points district— where a modern, cool-blue dining room showcases seafood towers, sashimi and Alaskan king salmon, among other ocean delicacies. A few blocks away, you'll find Makario's Kabob––Birmingham's answer to Middle Eastern delights. Massive plates of hummus with shawarma, meat grape leaves and fattoosh tawook make this a sought-after lunch or dinner option.
After filling up on food in Five Points (and stopping by for a photo at the famous Frank Fleming statue and fountain), take a short ride over to Lakeview for late-night. Lou's Pub & Package has anchored a street of bars since 1987. We adore Oasis for not only its lengthy beer list, but also for the live music that happens almost every night. It's an ideal place to encounter some of Birmingham's best music acts. On weekends, Slice Pizza & Brew serves cheese-laden pies until midnight. If you work in the medical profession, Mondays are a must. They give 25-percent discounts to anyone employed in that field. And on Thursdays, you'll find a brewery spotlight of local craft brews.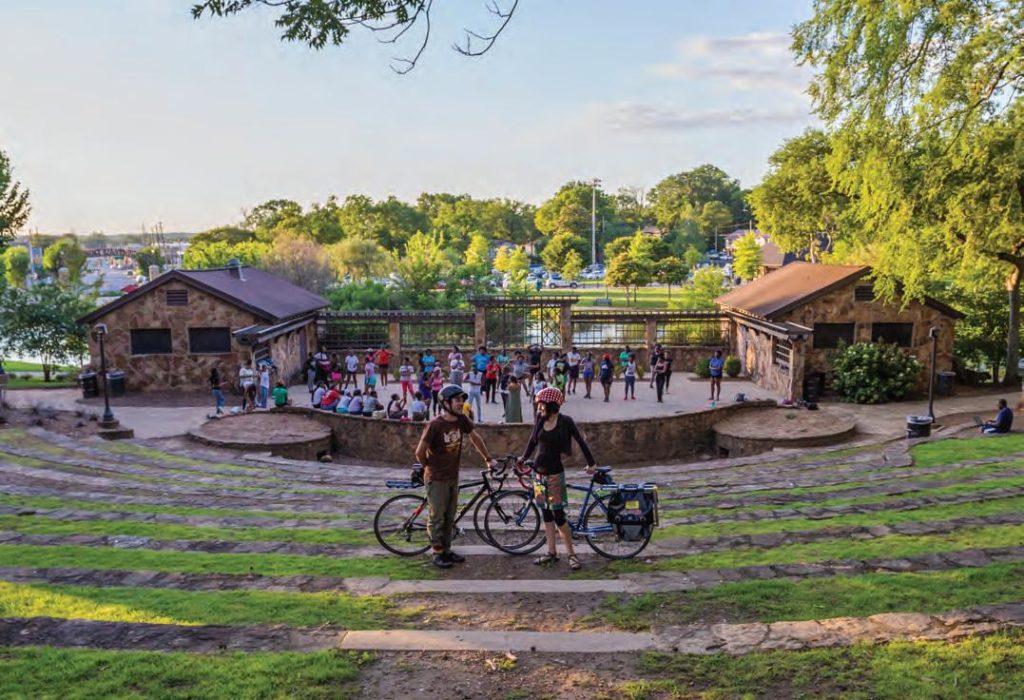 Avondale & Crestwood
These two historic neighborhoods are an easy drive or a decent walk from downtown.
Start in darling Avondale, where 1920s Craftsman homes stretch off in every direction from the main artery of 41st Street South. There's a wealth of food options, from creative American to barbecue to cocktails. You should certainly have a craft beer at the now-iconic Avondale Brewing and peek in the windows at the floral displays at Rosegolden flower design. Stop by Mom's Basement and transport yourself to a simpler time and good vibes. They offer a full bar, live music and a wall to hang a photograph of your mom.
Shopping is abundant, too. There's vintage to peruse at Sozo Trading Company and incredible artistry at MAKEbhm. This design collaborative space offers access to space and equipment to a range of local artists in mediums from woodwork to ceramics to jewelers. They also feature classes and workshops that visitors will enjoy. Crestwood is just east of Avondale. It's quaint and quirky. Youthful, with some great history to the homes. You'll find old-school listening moments at Seasick Records, where artists frequently come to sign vinyl sleeves the way authors might sign books. Next door is the Urban Suburban Antique Shop, a true emporium for picking up something secondhand. And, we can't get enough of The Filling Station—where it's hard to choose between a Three Cheese Marinara or a Chicken Pesto pizza. It's a fine place to catch an Alabama football game on the televisions, or you could meet the locals over at Crestwood Tavern for an open mic night and an affordable, affable pint.
Homewood, Hoover, & Vestavia Hills
Two of Birmingham's closest neighboring cities are also seeing dramatic change and growth in retail, restaurants and more. Escape Day Spa in the Edgewood neighborhood of Homewood provides first-class spa services in a serene setting.
Ruth's Chris Steak House in the Embassy Suites Hotel in Homewood serves the finest chef-prepared cuisine and offers an extensive wine list. For a more casual experience, visit Soho Social in downtown Homewood, Margaronas Cantina on State Farm Parkway, Baja California Cantina and Twin Peaks in Hoover. The city's best pizza and brews can be found at Slice Pizza and Brew in Vestavia Hills.
The Summit & Highway 280 Corridor
Lying just south of downtown Birmingham is the Hwy 280 corridor which leads to Birmingham's largest retail development, The Summit. Village Tavern is a landmark establishment at The Summit and is well known for delicious food, terrific cocktails and incredible service.
There's so much to do, see, eat and drink in Birmingham these days. It has this writer thinking of moving back, honestly. From all the serene hiking (did you know this is the end of the Appalachian Trail?) to the views from the restored Vulcan Park…from the Barber Motorsports Museum (a sleek, striking homage to all things motor vehicle, vintage-to-present) to the fun of McWane Science Center, where all ages can pick up a little knowledge…this new Birmingham is truly something to see. 
Excerpted from EXCURSIONS Hotel Guestbook Metro Birmingham 9th Edition (2019-20)by EXCURSIONS BY CITYVISION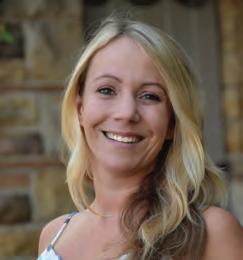 Jenny Adams is a full-time freelance writer, based out of Alabama and New York City. She was born and raised in Birmingham and has been covering food and drink stories for a number of publications for more than a decade. She writes frequently for Conde Nast Traveler, Robb Report, Portico Mountain Brook and Hemispheres magazine.
She's working on a novel set in New Orleans and if you'd like to find out more, you can visit her work at JennyAdamsFreelance.com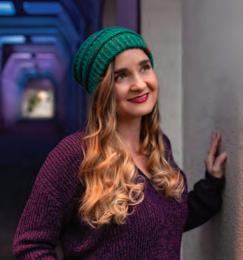 Rachel Callahan is a professional photographer who specializes in capturing the immense beauty of Birmingham. All of the profits from her work are donated to The WellHouse, a local nonprofit that rescues and cares for victims of human trafficking, rescuing women both in Alabama and all over the country. Rachel sells prints, metal prints, digital files, and many photo products featuring her work.
Follow Rachel at @ObjectivityRach on Instagram and Twitter or PictureBirmingham on Facebook. Her website is picturebirmingham.com.