19mar10:00 am5:00 pmEncounters – Jared Small: Southern Moments in TimeHuntsville Museum of Art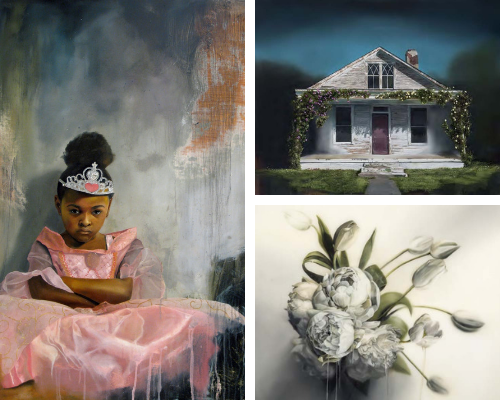 Event Details

The latest exhibition in this long-standing showcase for outstanding regional contemporary art focuses on the haunting works of this emerging artist from Memphis, Tennessee. Small has gained critical acclaim for his unique paintings on panel and vellum that are generally focused on arresting and dreamlike portraits, arrangements of flowers floating in ethereal spaces, and stately yet dilapidated Southern homes existing in ambiguity.  Small is essentially self-taught and considered a prodigy.

Small describes his practice as trying to imagine other people's memories — memories that are fading, but still there. Working from photographs, as well as from his imagination, he paints in a style similar to magic realism, with the center of each composition focused on a painstakingly accurate image while the background often dissolves into abstract elements. This technique allows the artist to hypnotize the viewer into a dream-like state, caught between the realities of the obvious and the mysteries that seem to exist beneath the surface.

Small's ability to detail exactly what he sees is most clearly evident in his portraits. Whether painting a worldly octogenarian or a child on the cusp of adolescence, he always captures the essence of each individual's distinctive character. By contrast, his architectural paintings are devoid of people — as if a human presence might reveal too much of the story. The artist may include flowers in the yard or a sliver of curtain in a window to suggest that these decaying structures are still inhabited, but he never reveals any more. In an article in the Memphis Commercial Appeal, Andria Lisle describes this captivating approach as similar to the mysterious obsession with the vernacular of the South. She writes, "Small's impetus to find beauty in the dilapidation is, likewise, a purely Southern sentiment that's most often manifested in photographs of kudzu-overtaken barns and rusted tractors."

A native and lifelong resident of Memphis, Small attended Overton High School and the University of Memphis, and has participated in numerous exhibitions in the region. His work may be found in many private and corporate collections, as well as the permanent collections of the Huntsville Museum of Art and the Memphis Brooks Museum of Art. Encounters: Jared Small – Southern Moments in Time is the artist's first major museum exhibition.
Time

(Tuesday) 10:00 am - 5:00 pm cst
Location

Huntsville Museum of Art

300 Church Street South, Huntsville, AL 35801