AUGUST 12-29, 2021
Over 60 locally-owned Birmingham-area restaurants, food trucks and bars to participate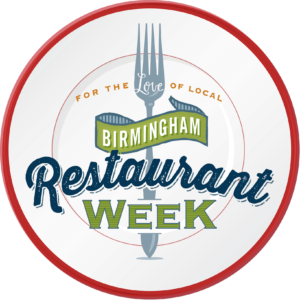 Sponsored by EXCURSIONS Hotel Guestbooks
HOW IT WORKS
Birmingham Restaurant Week, normally a 10-day event, has added additional days to make this an 18-day celebration of our beloved city's flavorful food and beverage scene! These Second Helpings help to maximize sales for area businesses to offset losses from COVID-19. Patrons now have the opportunity to bring BRW home to their table by choosing from new To-Go and Curbside Pick-Up Options.
BRW is not a one-night event, and there are no tickets to dine during BRW. All you have to do to taste the benefits is visit local restaurants, bars and food trucks, whether ordering To-Go, Curbside Pickup, Delivery or Dining In (with restaurants' new safety precautions) and enjoy chef and bartender-curated menus and special prices.
Here's how it works – participating restaurants, food trucks and bars across the entire Birmingham-metro area and its surrounding neighborhoods will offer special breakfast, lunch and dinner menus at set price points from $5 to $50 per person. We will list these participating businesses and their menus on our website for you to scour and plan your culinary plan of attack.
Whether you're revisiting your favorite restaurants or bars or experiencing new ones, we've made it easy for food and drink lovers to savor the flavors of Birmingham and celebrate the landmark eateries that have elevated Birmingham's culinary scene to national stardom! Just grab family and friends and order To-Go meals, Curbside Pickup or Dine-In with restaurants' new safety precautions, including socially distanced seating, disposable items, mask requirements and more. Ask your server for the BRW menu if you don't already have one, and after that, all you have to do is dig in and enjoy!
PARTICIPATING RESTAURANTS & BARS
Organizers expect more than 60 Birmingham and surrounding area restaurants, food trucks, bars and coffee shops to participate in BRW 2021 and to join in on Birmingham's renowned food and beverage promotional blitz. Those registered include:
5 Point Public House Oyster Bar, Ash Homewood, Ashley Mac's- Pizitz, Aww Shucks, Avondale Burger Co., Avondale Common House, Bar Sebastian, Bar Unplugged, Bayleaf Modern Indian Cuisine, Basil Pizza & Bar, Bistro 218, Blueroot – Downtown, Cahaba Brewing Company, Craft's on Church Street, Crestline Bagel Co. – Cahaba Heights, Crestline Bagel Co. – Downtown, Crestline Bagel Co. – Mountain Brook, Davenport's Pizza Palace, Dread River Distilling Company, Dreamland BBQ, El Zun Zun, Eugene's Hot Chicken – Hoover, Evelyn's Southern Fare, Farrelly's Southern Bar and Kitchen, Filter Coffee Parlor, Good Health Raw Vegan Soul Food Cafe and Juice Bar, La Tía Paisa Taco Shop, Lob House Seafood & Steak, McFly's Bird Shoppe, Meals by Misty – Trussville, Meals by Misty – Homewood, Michael's Restaurant, Ocean, Ovenbird, Pappas' Grill, Porky's Pride Smokehouse, Rojo, Rolls., Roots & Revelry, Rusty's Bar-B-Q, Sabor Latino, Shiki, Slice Pizza & Brewhouse – Vestavia, Slice Pizza & Brewhouse – Lakeview, Sol Y Luna, Spring Street Bar and Grill, Steel Gastropub, Taj India, The Backyard Market, The Fig Tree, The Gardens by Kathy G., The Hive, The Yard Birmingham at Elyton Hotel, Tortugas Homemade Pizza, Tuff Love Provisions, Umami, Underground Vegan, Vino & Gallery Bar and Watkins Branch Bourbon & Brasserie.
REVIEW PARTICIPANTS AND MENUS
Helpful search tools are provided on the BRW website home page and on the Eat/Drink page, where users can search participating restaurants and view their BRW menus by location, meal, price point, service or other desired option to aid in planning their culinary plan of attack for BRW. Menus will be posted Aug. 9. 
WINE-O-LOGY EVENT AUG 18
BRW 2021 will also include a Wine-O-logy event brought back from previous years, along with other supporting events. Wine-O-logy, a wine flight tasting event with fantastic food and live entertainment, will be held Wednesday, Aug. 18 from 4:30 to 7 p.m. at Vino & Gallery Bar in English Village. Event attendees will have the opportunity to explore their palette for new wine favorites provided by United-Johnson Brothers while enjoying delicious hors d'oeuvres provided by Sysco Foods. Wine-O-logy tickets are $30 per person and $50 per couple. A limited number of walk-up tickets can be purchased at the event for $35 each. Tickets and additional event information can be found at bhamrestaurantweek.com/events/. 
LOOKING FOR EMPLOYMENT?
Because of this, a key component of this year's BRW is to connect individuals seeking employment in the culinary industry with BRW participating restaurants that are looking to hire. Area job seekers may submit a Culinary Job Recruitment Application found at www.bhamrestaurantweek.com/jobs, which is a simple form that asks for contact information, availability, experience, desired position(s), etc., along with the option to upload a resume. Once the form has been submitted, BRW will pass this information along to BRW participating businesses who are hiring, who can then reach out to individuals. In addition to the application, job seekers may also view a database of BRW businesses who are hiring along with what positions they are hiring for and how individuals may apply directly to that restaurant. BRW's goal is to help people find jobs while getting Birmingham's locally-owned restaurants staffed. With the promotion of it in all BRW marketing channels, BRW hopes this will provide a one-stop-shop for interested candidates in the restaurant industry to find jobs and to fill a need for restaurants that aren't able to actively market openings and communicate them to the public.
In addition to Spire, gracious sponsors include Tito's Handmade Vodka, Red Diamond Coffee & Tea, Sysco Foods, Birmingham Budweiser, Coca-Cola United, United-Johnson Brothers, Birmingham City Council, Amplify Marketing Solutions, Complete Janitorial Services, Strategic Tax & Accounting and EXCURSIONS Hotel Guestbooks by CityVision. BRW media sponsors include Fox 6 WBRC, Birmingham Mountain Radio and Bham Now. 
#BRW2021 #EXCURSIONSGO #INBIRMINGHAM