Experience our Arts and Culture
Looking for a cultured night out on the town? Head to the Von Braun Center for a variety of performances by local and regional and national groups. Treat yourself to an evening with the Huntsville Symphony Orchestra and enjoy classical and modern performances led by maestro Gregory Vajda. For information, visit hso.org. The Huntsville Ballet Company also calls the VBC home. Visit huntsvilleballet.org for a schedule of performances by some of the country's most talented professional dancers. The VBC hosts Broadway Theatre League shows, brought straight from NYC to the Rocket City. For a list of dates and shows, visit broadwaytheatreleaque.org. If you are looking for local theater talent, the Von Braun Center Playhouse hosts the Fantasy Playhouse Children's Theater (fantastplayhouse.org) and Theatre Huntsville.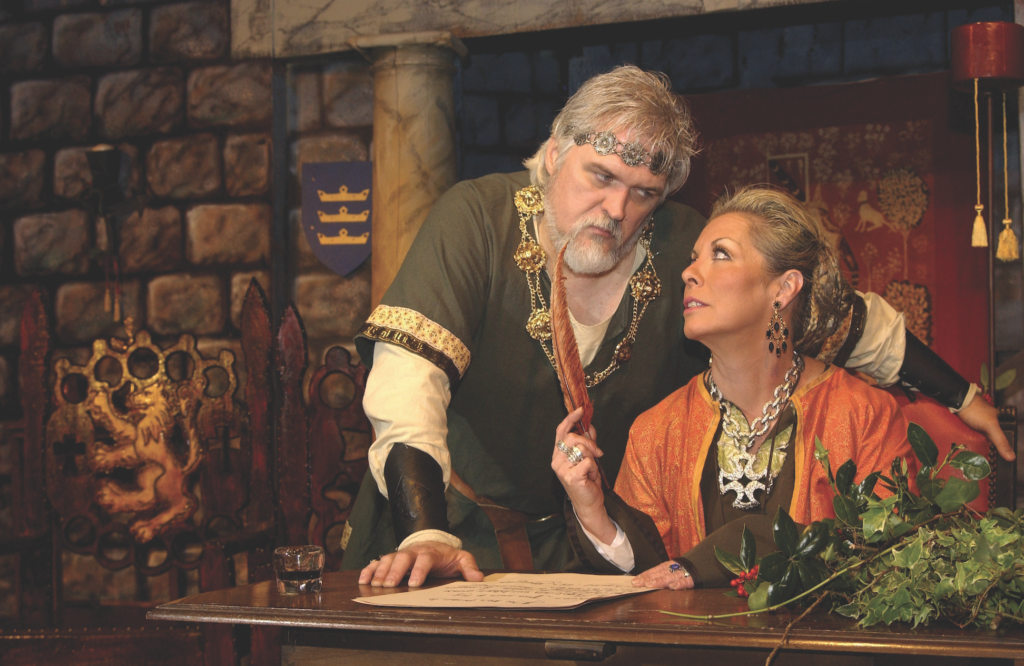 Art can be found all throughout Downtown Huntsville. Don't miss the murals that bring life to the walls of downtown buildings. The newest mural in Downtown can be seen off of Washington Street on the side of the Clinton Row Garage. This mural is in honor of the "Votes for Women" campaign.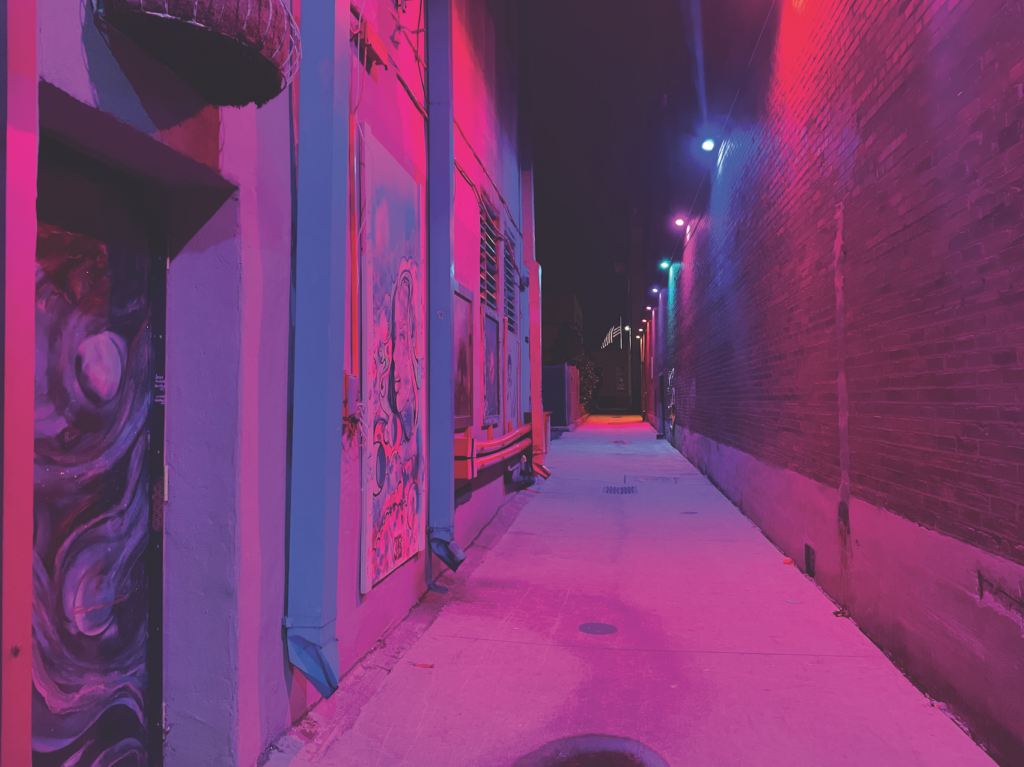 You can also enjoy art in hidden locations through the Downtown Huntsville Secret Art Trail. Art can be found on ceilings, in alleys, and even underneath your feet! Plus, the new Mae Jemison segment of the Secret Art Trail in Big Spring Park features seven painted power boxes in honor of the first African American woman in space. You can learn more at downtownhuntsville.org/secretarttrail.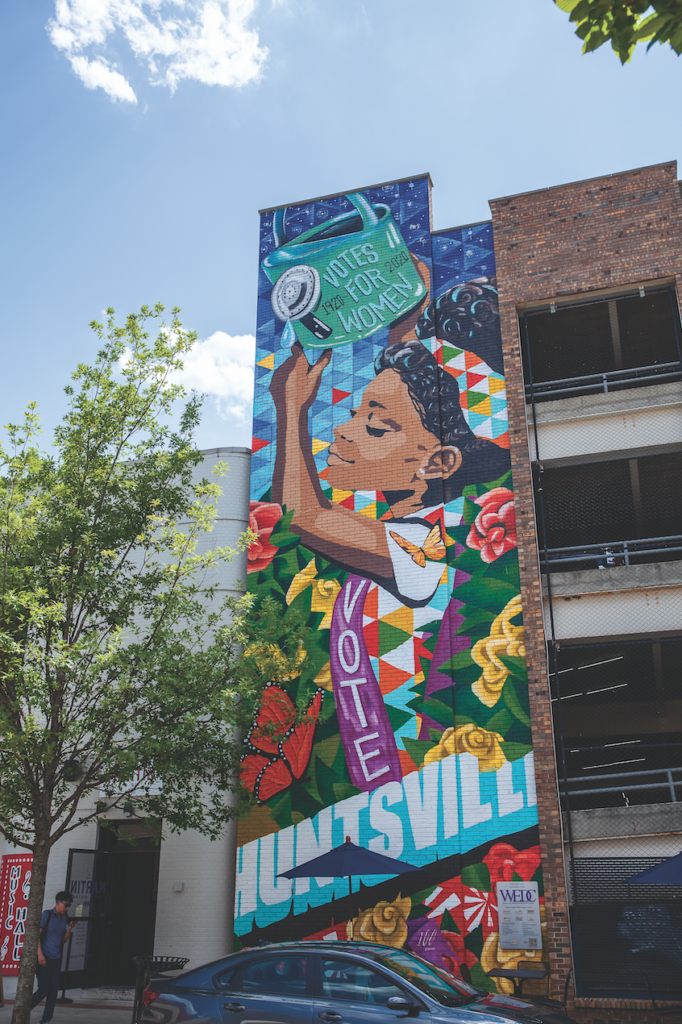 If you want to bring Downtown Huntsville Art back home to you, then check out the Friday Night Art Walks. From May to October, Downtown Huntsville, Inc. hosts their Friday Night Art Walks, where local art vendors gather around the Historic Square in Downtown Huntsville for a night of fun local shopping. More information about Friday Night Art Walks can be found at downtownhuntsville.org/FridayNightArtWalk.
Located in the heart of Downtown Huntsville in Big Spring Park, the nationally accredited Huntsville Museum of Art fills its numerous galleries with a variety of exhibitions throughout the year, including prestigious traveling exhibits, the work of nationally and regionally acclaimed artists and exhibits from the museum's own 3,000-piece permanent collection. After you take in the art, stop in the Museum Store for unique jewelry, pottery, glasswork and more.
For more Downtown History and Culture, head to any of our Historic Residential communities. The city of Huntsville boasts more homes on the National Register of Historic Places than any other in Alabama. Located downtown, the Twickenham District is one of the South's best-kept secrets, featuring the largest collection of antebellum homes in Alabama.
Kids and adults alike will be impressed by the recreated world of the past at EarlyWorks Children's Museum, the Alabama Constitution Hall Park, where interpreters live the lives of early Huntsville settlers. And who doesn't love trains? Stop by the Huntsville Depot Museum for a ride through railroad history. Can't decide which one you want to visit? See all three and enjoy a discount. Call 256.564.8100for more information.
Experience the Downtown Trail Network
If the Downtown Huntsville Secret Art Trail interests you, then you might want to consider journeying on the other Downtown Huntsville Trails. These include the Craft Beer Trail, Craft Coffee Trail, and the newest Craft Cocktail Trail.
For craft beer fans, Huntsville is a popular destination for your favorite ales, stouts and more, and many of the top craft beer establishments are concentrated in the Downtown Huntsville area! The Downtown Huntsville Craft Beer Trail is an informal alliance of local craft breweries and craft beer stores. Guests on the trail can pick up a trail card at any of the establishments on the trail. From there, you can get your trail card stamped at each stop. Once you complete all the stops, you can redeem your trail card for free trail swag. In other words, the Downtown Huntsville Craft Beer Trail rewards you for tasting all the great local craft beers in the city center.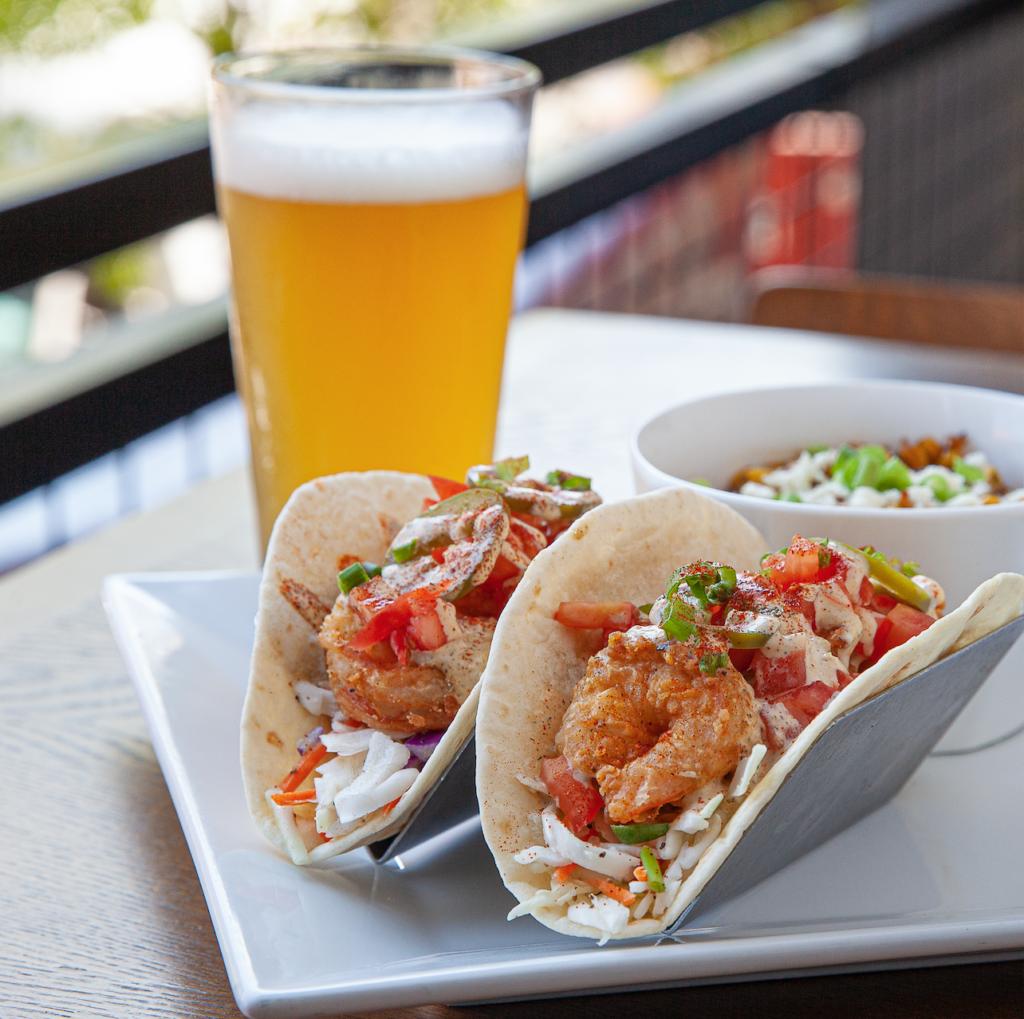 If Huntsville wasn't known for it's beer, then coffee would be the runner up! With the same concept in mind as the Craft Beer Trail, the Craft Coffee Trail rewards You for staying caffeinated! Visit local craft coffee establishments to get a trail card, stamps, and earn a fabulous Craft Coffee Trail mug!
The newest addition to the Downtown Huntsville Trail Network is the Craft Cocktail Trail. These impressive cocktails may seem like a reward themselves, but you might as well start earning your stamps while you are indulging!
Drink handcrafted cocktails, collect your stamps, and at the end of the trail receive a cocktail strainer to make your favorite drink right at home! For a true Rocket City experience, book a ride on the Rocket City Rover party trolley and take to the trails in style and comfort!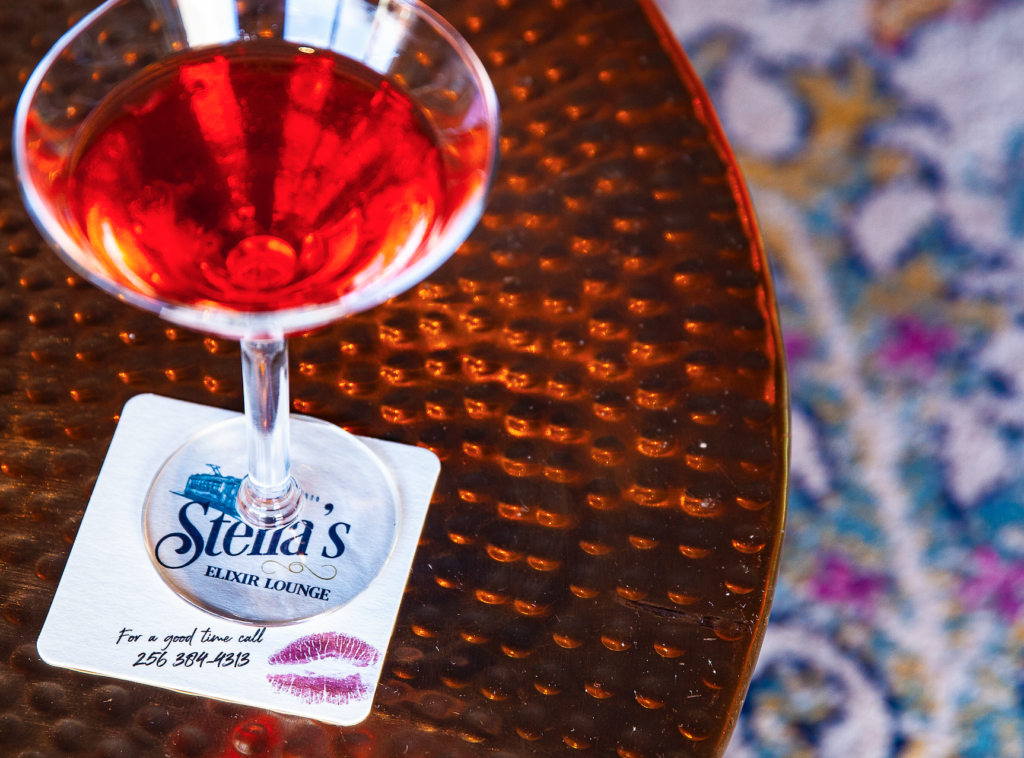 Whether you're looking to grab a drink and chill to some tunes or dance into the night, you can find just the right spot in Downtown Huntsville. Live bands are a mainstay at many bars and clubs, including The Martin Bar & Bistro, Jefferson St. Pub, and Sidetracks where you can also grab a bite to eat. Or, you can rock out at such local favorites as Sammy T's Music Hall and Whiskey Bottom Saloon.
Unique rooftop experiences and the city's top bartenders await you at Stella's Elixir Lounge and Rhythm on Monroe where you may also enjoy live music many nights of the week. Church Street Wine Shoppe, Purveyor, Ruth's Chris Steak House, and Domaine South also offer handcrafted cocktails and glasses of wine and appetizers. Nightlife in Downtown Huntsville is an adventure around every corner.
Experience Shopping Local
In the mood to do a little shopping? Then look no further than the Clinton Row District. This one-of-a-kind shopping destination in historic Downtown Huntsville is home to some of the city's most unique boutiques. From boho chic goods at Indigo Boutique, Caley Paige Home and Gifts, Silhouette Boutique, 5th Avenue inspired fashions at Elitaire Boutique to a full servicemen's provisioner at Roosevelt & Co., these locally-owned and operated shops are sure to have a unique selection of items you won't find anywhere else. Plus head underground to the Clinton Row Shops for some of Downtown Huntsville's best keptsecrets! See all the unique shopping in theClinton Row District at shopclintonrow.com.
Around the Historic Square, you will find the oldest store in DowntownHuntsville, Harrison Brother's Hardware.Established in 1894, the store retains its original historic fixtures and offers merchandise that reflects "American made" at its finest. This shop is not just a great place to find Huntsville gifts and galore, but an entire experience with plenty to learn about Huntsville history.
If you are heading up to the mountain, stop by The Little Green Store and the gift shop at Burritt on the Mountain for great Monte Sano themed merchandise and amazing gift ideas.
Other notable shopping locations include the Preservation Company, Holtz Leather, and Brooks & Collier all located within the Lincoln Mill District. Find handmade artisan goods at the Lowe Mill Arts & Entertainment Center. In the Medical District, you can find Merchants Square and Merchants Walk full of quirky boutiques. Twickenham Square is home to a few small businesses as well as a Publix for convenient grocery shopping. Supporting local small businesses is easy when there are so many great options from which to choose.
For a full list of shops, visit downtownhuntsville.org/shopping.
Experience an Active Lifestyle
Without a doubt, Big Spring Park is the epicenter of life and culture in Huntsville, and now zipping around downtown is easier than ever. Downtown Huntsville Blue Bikes, presented by Blue Cross and Blue Shield, are spread out throughout downtown at eleven stations including at the VisitorsCenter, Big Spring Park, and Campus 805. Riders will pay a simple $2 per 30 minutesof riding.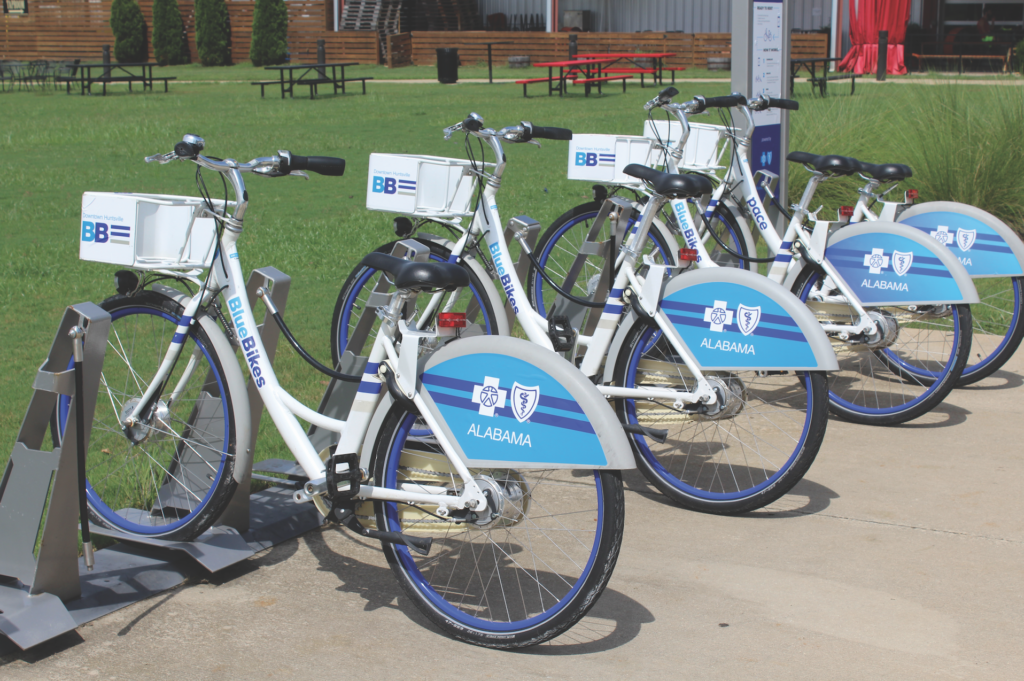 Throughout the year, the park plays host to numerous events, including the Panoply Arts Festival, Crush Wine & Food Festival, Tinsel Trail and Paddle the Canal. But you don't have to wait for a major event to enjoy the park. Children will love the famously friendly ducks, geese and koi that call the lagoon home. Or, use the park as a starting point for your exploration ofHuntsville. Visitors can enjoy strolling the walking trail, viewing the light displays every evening after dark, stopping for a peaceful picnic or even surfing the web courtesy of free wi-fi.
However, don't miss out on Downtown Huntsville's other parks! Visit our urban pocket park, Washington Park, for a splash of nature in the middle of bustling buildings. Or enjoy thrilling sports and a covered patio at California Park. For a peek at many of our Downtown Parks, check out the Downtown Huntsville Explorer Vlog Park Series at downtownhuntsville.org/vlog.
Downtown Huntsville is also only five minutes away from over 40 miles of mountain biking and hiking trails. Land Trust of North Alabama's Monte Sano Nature Preserve offers 22 miles of free public trails showcasing native wildflowers, historic sites, waterfalls and more. Anchoring the district is Monte Sano State Park which offers panoramic views of Huntsville.
If you are seeking an indoor fitness experience, Downtown Huntsville offers everything from cycling, to martial arts and everything in between. Cycling classes can be found at Zoom Fitness or the new Cyclebar. Enjoy Yoga with Light On Yoga Fitness. Learn martial arts through Maverick Training, or try trainer led classes at Regymen Fitness. For a full list of indoor fitness experiences, visit downtownhuntsville.org/dorentorn-outdoors.
Experience Dine Huntsville
One thing's for sure you won't go hungry while you're visiting Downtown Huntsville. Whether you're in the mood for a quick bite, a leisurely dinner or fine dining, there are plenty of options to please your palate. In the downtown core try local favorites like Rhythm on Monroe, Honest CoffeeRoasters, and Domaine South. The Church Street Family has several dining options in the downtown core including the new Church Street Wine Shoppe on Gates andSea Salt: Oyster Bar. For hand crafted cocktails and an unforgettable dinner, try Purveyor; they have an inventive menu and they're open late for shareables. Downtown is also home to Cotton Row and Commerce Kitchen by celebrity chef James Boyce.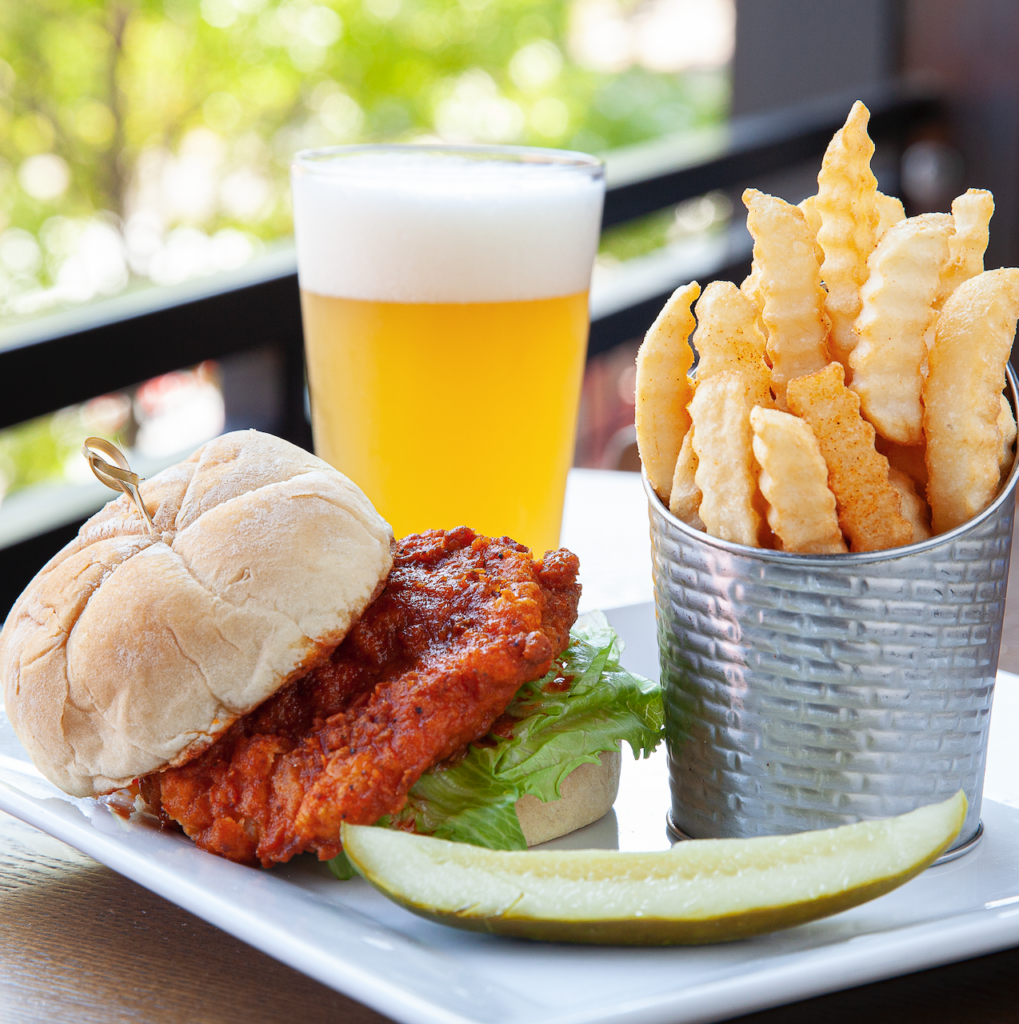 In West Huntsville you can find Fresko Grille at Stovehouse for a healthy option or stop into Earth and Stone Wood Fired Pizza at Campus 805 for a meal for the whole family.
The Medical District is home to fine steak at Ruth's Chris Steak House.Find more dining options atdowntownhuntsville.org/dining-nightlife.
See ExcursionsGo.com for a complete list of dining options.
Experience Live Music
The Von Braun Center has multiple facilities to host live musical performances. Big name concerts as well as local musician lineups are held at the VBC. It is located conveniently next to many downtown restaurants, parks, and hotels. Visitors and locals alike can enjoy a night out at the Von Braun Center in Downtown Huntsville.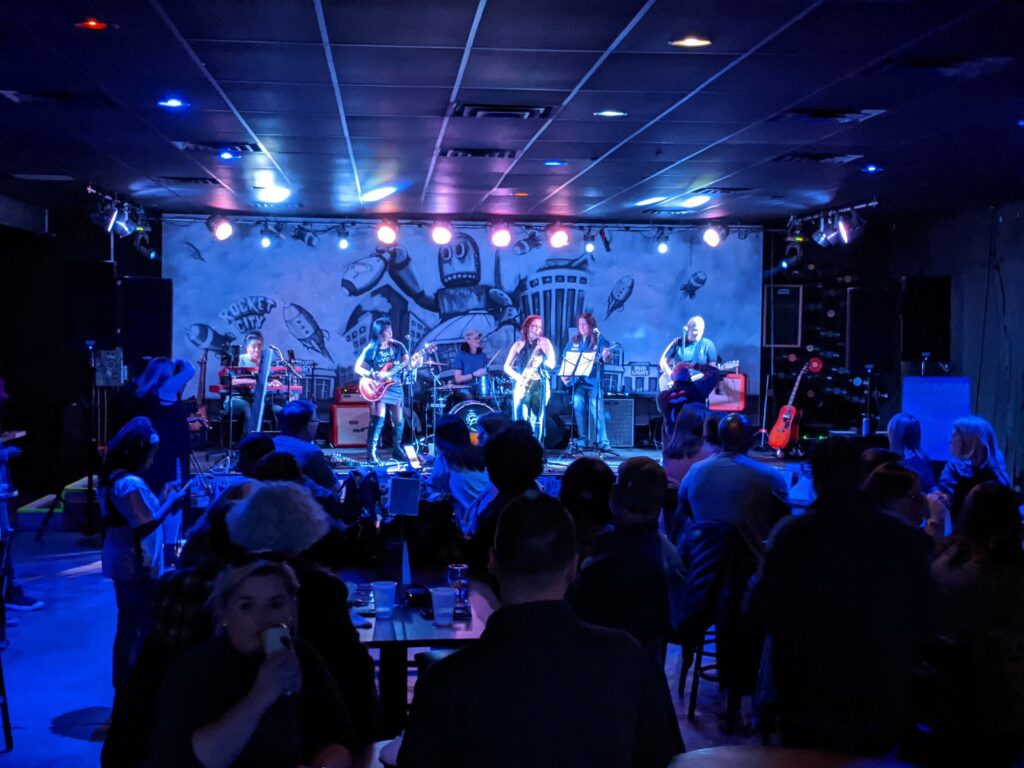 The newest addition to the VBC is the Mars Music Hall. Its open-floor plan and balcony overlooking the oversized stage make this one of the most unique live music venues in the state. It is also equipped with four bars/food service areas perfect for big events.
Aside from live music venues, Downtown Huntsville is also home to the Women in Music weekend. Celebrating women in music, this weekend is filled with Huntsville's top women musicians performing at local establishments downtown. You can enjoy music sessions with multiple artists at bigger venues or cozy up with a single artist in smaller unconventional stages. Learn more at downtownhuntsville.org/womeninmusic.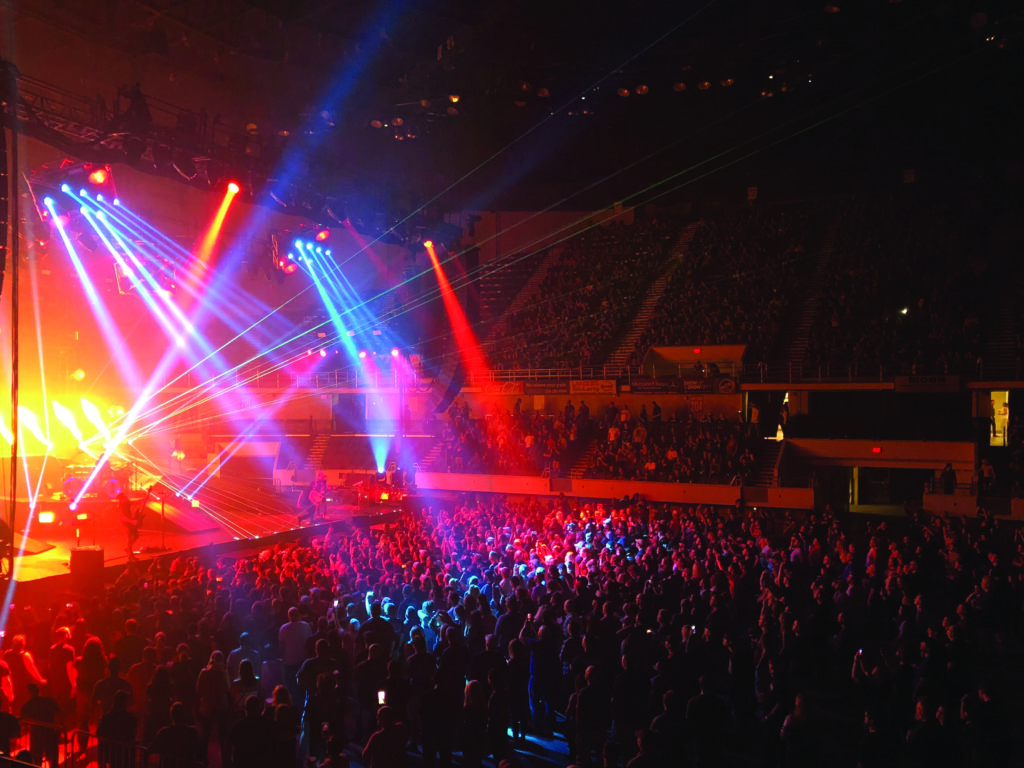 If you can't make it out to any live music event venues or the Women in Music weekend, you can visit downtown any day or time and be able to find buskers performing. Local buskers are welcome to set up in certain areas of Downtown Huntsville to provide live music for those dining or shopping in the area.
Experience Unique Venues
Campus No. 805 has become the connecting point for the resurgence of West Huntsville neighborhoods, the treasured historic districts and the hundreds of exciting new loft residences in downtown. Campus 805, once home to classrooms filled with students, is now filled with a growing list of tenants including craft breweries, restaurants, catering, bars, retail and entertainment venues!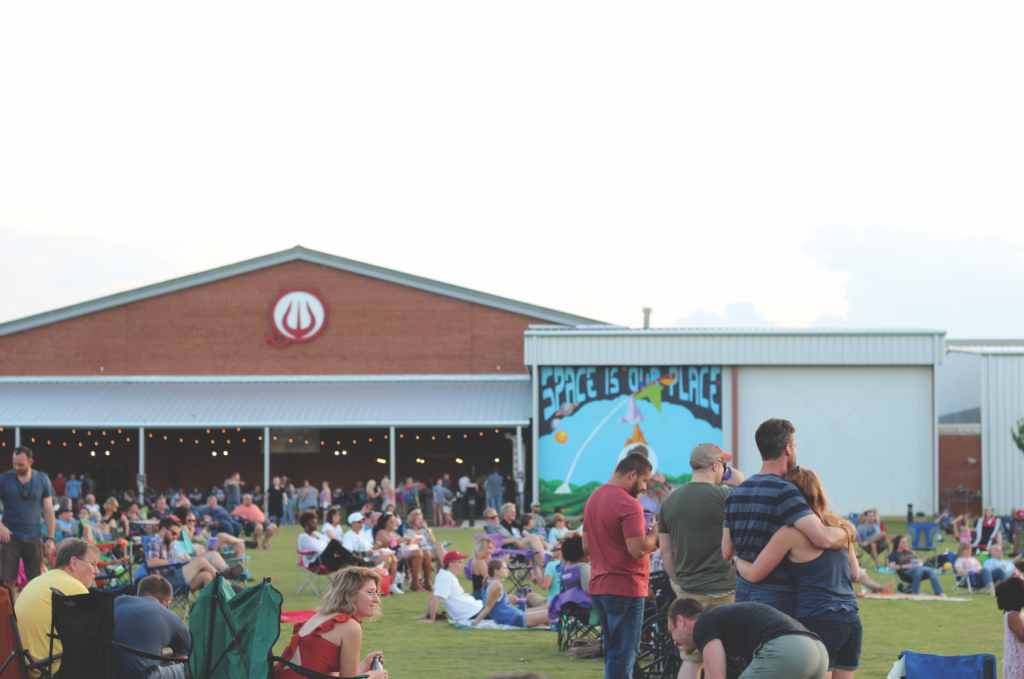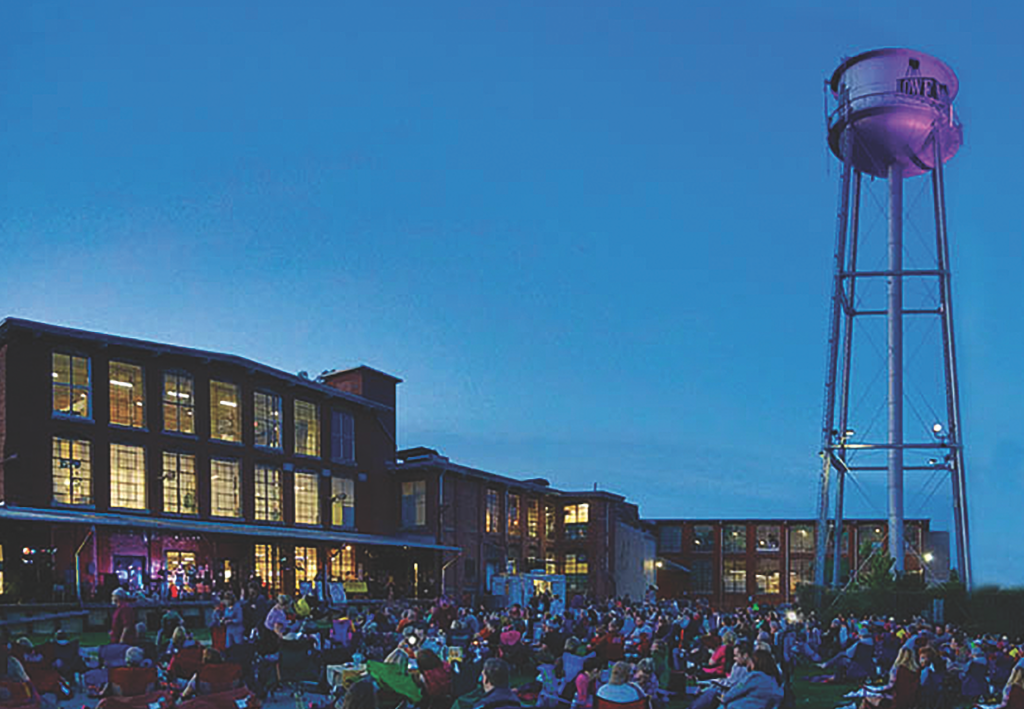 Stovehouse, an old factory building, is now one of the best social pubs in downtown. Great food and beverage options line the courtyard at Stovehouse all encompassing a beautiful area for socializing or listening to live music. Recurring events here include trivia night, dueling pianos, movie nights, and more.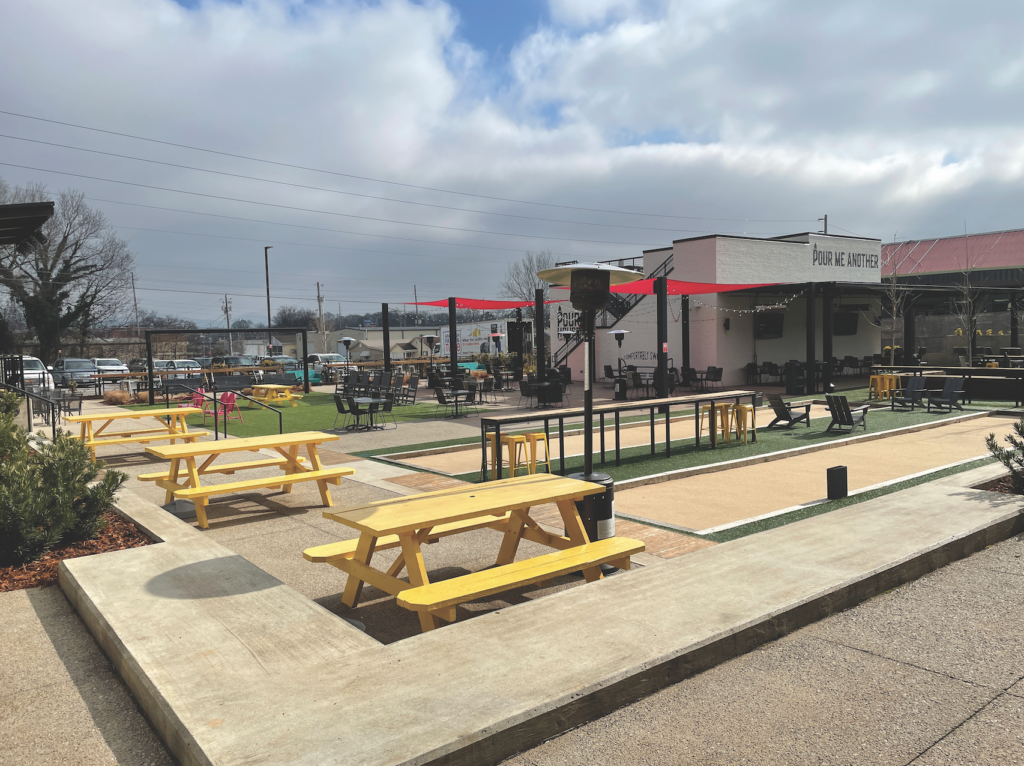 Find more information about our venues at downtownhuntsville.org/shopping.
Stop by the Welcome Center
Need information about what to do during your stay in the Rocket City? Stop by the Visitor Center, located in the lobby of the Huntsville/Madison County Convention and Visitors Bureau in Downtown Huntsville. Pickup Passport coupons to use at area attractions. Sports fan? Pick up an All-Star Sports Pass which allows you to buy one ticket and get one FREE to Robert Trent Jones Golf Trail, Huntsville Havoc hockey, UAH Chargers hockey and Huntsville Tigers women's football. TheVisitor Center is also the perfect place to pick up a Rocket City souvenir, or the Arts & Entertainment Pass.
For more information about the Visitor Center and to see online listings of where to stay, shop, dine and play, call 800.SPACE.4.U or visithuntsville.org. Open seven days a week, the Visitor Center is conveniently located at 500 Church Street NW in Downtown Huntsville.